Roosevelt And Muir in Yosemite...
The First Conservationists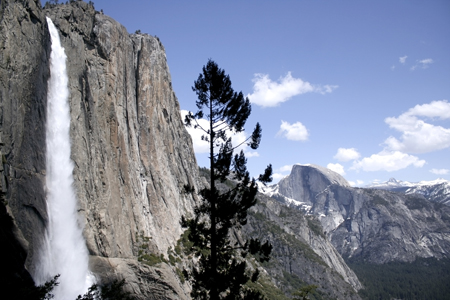 ---
Roosevelt and Muir meet: President Roosevelt And John Muir Were Photographed Returning To Yosemite Valley After Their Private Meetings In The Yosemite High Country.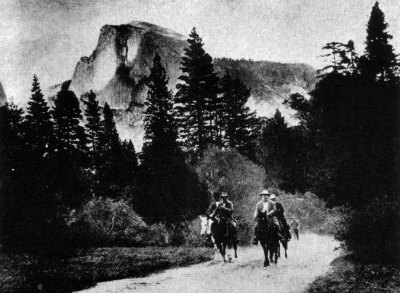 President Roosevelt spent the first night near the Sunset Tree in the Mariposa Grove, the second camp was made near Sentinel Dome following a long hard day's ride through snowdrifts and an afternoon fighting a raging blizzard.

This photo was made on the third day, the skies still overcast after the storms.
Pictured in the photo-left to right are Ranger Charles Leidig, John Muir, President Roosevelt and Ranger Archie Leonard.

Following behind them are a few of the hundreds of visitors who flocked to Yosemite in order to catch a glimpse of the popular President.

---
Teddy Roosevelt's now famous 1903 trip to Yosemite was the subject of the November 1955 issue of Yosemite Nature Notes.
Roosevelt was an avid outdoorsman and conservationist who, thankfully for the country, brought with him to the Presidency a solid understanding of the  land management issues of the day.
John Muir's writings were followed closely by the President and over time Roosevelt became increasingly interested in discussing his own attitudes toward conservation with Muir face to face.

Through California Senator Chester Rowell he communicated to Muir an interest in meeting with him in Yosemite and away from the main party of dignitaries. The rest, as they say, is history.

---
Yosemite Nature Notes
For nearly 40 years Yosemite Nature Notes served the park and the National Park interpretive program. First mimeographed as a newsletter in July 10, 1922 "Nature Notes" evolved into a small booklet containing interesting Yosemite themed articles and was produced monthly.



The little publication was read in its various forms through the years by millions of park devotees.
 
In its more than 400 regular issues and 23 special issues can be found much of the story of Yosemite National Park-its human history, archaeology, biology and geology.

Revenues from Yosemite Nature Notes were dedicated entirely to assisting the park naturalist division in the furtherance of research and interpretation of the natural and human story in Yosemite National Park.
 
This article entitled "Roosevelt And Muir-Conservationists" was written by Ranger-naturalist Richard J. Hartesveldt and appears here in its' entirety:

---
Their Common Values
In May 1903, Yosemite National Park was host to a meeting between President Theodore Roosevelt and John Muir, the famous naturalist. That this historic meeting happened was little known at the time. This unusual meeting of two great conservationists had a strong influence upon the formulation in our government's land and resources policy. It was during this great era of accomplishments that the term conservation came into its present meaning.

The prelude to this meeting began a few years earlier when forests which had been set aside by Presidents Harrison and Cleveland were endangered by pressure from commercial interests who wanted the Congress to release them from Federal control.

To John Muir, through his vivid writings, goes much of the credit for preventing the passage of such legislation. President McKinley devoted a large portion of his time to the management of the unpopular Spanish American War and too little attention was given to land and resource legislation. Through the political maneuvering of his opponents in New York, Governor Theodore Roosevelt was elevated to the vice-presidency in an effort to stem the rash of anti-monopolistic legislation he was proposing.

Meanwhile, the opponents of Federally-owned forests were making headway. In a letter to his friend C. S. Sargent, a renowned tree expert, Muir wrote, "In the excitement and din of this confounded war, the silent trees stand a poor show for justice."

But things changed. On September 6, 1901, President McKinley was assassinated; on the same day Theodore Roosevelt was sworn in as President of the United States.

---
Teddy Roosevelt The Perfect Man For The Job

Few men have entered the office of President with more enthusiasm than did Teddy Roosevelt. As an outdoorsman, he had a wonderful insight to problems of land management, many of which were solved during his administration.

He felt that "Conservation of natural resources is the fundamental problem." He continued, "Unless we solve that problem it will avail us little to solve all others."

Seeing that forests, grazing lands and watersheds were in danger of impoverishment by exploiters, he and his able forester, Gifford Pinchot, began steering the nation conservation-wise by tightening Federal control over such lands. The President became interested in the conservation attitudes of John Muir by reading Muir's enthusiastic writings. He indicated to the famed naturalist through California Senator Chester Rowell that he desired to make a trip to Yosemite for the express purpose of "talking conservation" with him.

---
Roosevelt Makes Travel Plans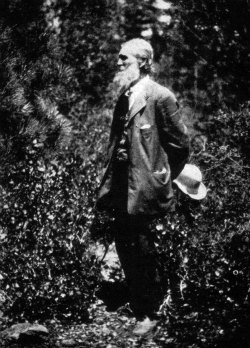 Muir must have been thrilled at the prospects of a visit by the President, although he did not so express himself.

After receiving a personal letter from Roosevelt, he wrote to C. S. Sargent postponing their sailing date for Europe and the Orient, saying. "An influential man from Washington wants to make a trip into the Sierra with me, and I might be able to do some forest good in freely talking around the campfire."


Some forest good was putting it mildly!

The President arrived dressed for the business at hand in his rough hunting clothes. He and Muir left the main party of dignitaries and slept on the ground at night, once in the snow, which delighted the President. The conversations around their Sierra campfires would probably fill several volumes, since both were prolific talkers.

Although we shall never know all that transpired on this memorial outing, there is much evidence of the good which resulted from it.


John Muir was emphatic about the need for legislation to prevent archeological ruins from being destroyed by "pot hunters" and other collectors. The Petrified Forest and the Grand Canyon were foremost among specific areas mentioned.

Perhaps it was at this time that the two conceived a workable plan which would vest the President with the necessary power to set apart as national monuments areas deemed nationally significant.


The purpose was, of course, to save time when areas were in immediate danger of invasion, and also to circumvent opposition in Congress which might prevent many such areas from being established. The legislation was enacted in 1906 and is known today as the Antiquities Act.

---
The Birth Of The Antiquities Act
Under various preemption acts, the public could obtain land cheaply or without actual cost. Intended to facilitate settlement of our new nation, these acts lent themselves beautifully to fraudulent practices.

Muir told the President of certain lumbering interests in California's redwood forests which would engage sailors on incoming ships to file for the legal amount of redwood forest land and then immediately deed the land to the company which paid them $50.00 for their trouble.

This, and several other fraudulent practices which were brought to Roosevelt's attention accentuated his already determined opinion that action had to be taken as quickly as possible.

With the President's visit began a friendship with Muir that was carried on by mail though the years. T.R. had doubtlessly had a "bully good time" camping in Yosemite. He wrote Muir years later that he wished that once again they could camp underneath the sequoias.

---
"To Last Through The Ages"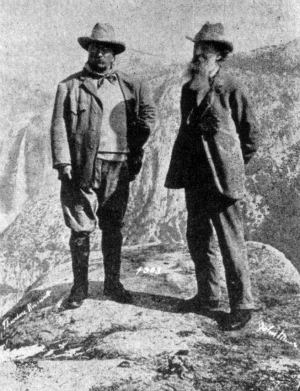 En route to Washington the President stopped in Sacramento and in a speech, prevailed upon the citizens of this state to do all in their power to use their forests and streams wisely, to preserve the natural wealth.

He ended, "We are not building this country for a day. It is to last through the ages."

Back at the White House, the President attacked the many problems with renewed vigor. Not only his own staff was moved by his courageous attack on the misuse of our natural resources, but the public caught the enthusiastic approach to this real problem.

It was through such loyal support that he won battle after battle against an almost violent opposition of moneyed commercial interests.

During his administration, which ended in March 1909. Mesa Verde, Platt, Wind cave and Crater Lake were established as national parks.

Having elected the areas to be established as national monuments while on his outing in Yosemite, he waited only for their boundary descriptions before signing the proclamations which withdrew them from public entry.

The establishment of the Grand Canyon as a park had long been the subject of debate. As far back as the Benjamin Harrison administration efforts had been made to establish it as a national park. Selfish interests succeeded in preventing it.

---
"The Power To Protect"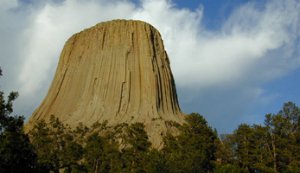 Now, with the power to proclaim lands as monuments in the public interest, Roosevelt in 1908 set aside some 800,000 acres as Grand Canyon National Monument. Congress later gave it a national park status.

Park areas set aside during the Roosevelt era included: Chaco Canyon, New Mexico; Devils Tower, Wyoming; El Morro, New Mexico; Gila Cliff Dwellings, New Mexico; Jewel Cave, South Dakota; Montezuma Castle, Arizona; Muir Woods, California; Natural Bridges, Utah; Navajo, Arizona; Pinnacles, California; Tonto, Arizona; Petrified Forest, Arizona; Tumacacori, Arizona, and Lassen Peak and Cinder Cone, California (now Lassen Volcanic National Park).

Conservation of our natural resources became a major part of Roosevelt's activities. The monopolistic misuses of lands acquired from public domain largely came to an end.

Land users, some with great resentment, were required to pay for the privilege of that use. Even the enemies of this historic change had to admit its benefit to the country at large. The tide had turned.


In May 1908, the President called the Conference of Governors at the White House. Governors of every state and territory, the Cabinet, the Supreme Court justices and numerous senators and representatives were invited to discuss what TR considered to be the greatest problem confronting the nation.

He must have thought it of utmost importance to have called the governors away from their jobs all at once. The conference was unique and the President gained world-wide prestige because of it.

---
Looking Ahead
Here, in a time of plenty, he was calling the nation to look ahead and plan wisely for the continuous use of the rich resources. As a result of this conference nearly every state established a conservation commission.

From this evolved the National Conservation Commission which carried on its activities mainly on TR spirit, since there was little or no money for its operation.

In 1909, Roosevelt initiated the North American Conservation Conference, inviting Canada, Newfoundland and Mexico to participate in a discussion of common resource problems.

A world wide conference was proposed and was to be held at the Hague, Netherlands. However, it never materialized because of a lesser interest in conservation on the part of his successor, William Howard Taft.

Among his other great accomplishments was the formulation of the Inland Waterways Commission which was instrumental in showing the close relationship between forests and water flow.

Waterway development became a scientific and intelligent business for the first time. Mineral and oil lands were saved from exploitation.

The Division of Forestry under Gifford Pinchot was greatly strengthened and 148 million acres of forest land was given national forest status. During the Roosevelt administration 234 million acres of land were withdrawn from private entry, to be managed for the benefit of the American people.

---
A Meaningful Legacy
The amount that John Muir influenced Teddy Roosevelt's subsequent courageous actions in behalf of the public is as intangible as is the value of Yosemite's famous scenery. Few will deny that the value was great. The people of the United States will long reap the benefits of a program which was strongly encouraged around their campfires in Yosemite National Park.

---
To return to the Home Page from Roosevelt and Muir please click here.