Some Yosemite Birds Were Named In Honor Of People...
Discover Who They Were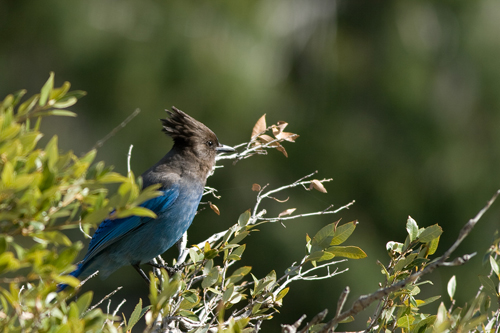 Of the Yosemite birds, the Stellers Jay is unquestionably the most "prominent"! You might even say that he is inescapable. He is an unafraid opportunist, not hesitating to swoop down from his overhead perch to snatch something from the plate in front of you.
If you somehow manage to miss this type of brash behavior, you will not be able to avoid all the racket that he and his fine feathered friends generates. He is aptly known as "Yosemite's Greeter", and there are very good reasons for that.
---
In the February 1960 issue of "Yosemite" C.O. Harris, a Park Naturalist from Rocky Mountain National Park, wrote an article entitled "Personal Names In The Vernacular Nomenclature Of Yosemite Birds". It was an interesting look at how some of the more commonly seen Yosemite birds were given names in honor of individuals.
This page borrows many of these little know facts from this original work…Thank you C.O.!
---
Of the species of Yosemite birds now recorded, a total of 32 bear personal names as a living tribute to various bird enthusiasts. The honor of the individual's name is sometimes even reflected in the "Latinized" scientific name of the bird.
Through the many years, changes in assigned scientific names have come. These changes were usually based on earlier published names, and some of the personal names were lost. In an attempt to help restore emphasis to the species, the American Ornithological Union also decided to abandon the vernacular names for subspecies. This effort too has eliminated some interesting names.
The following notes explaining the origin of the personal names sometimes still used for Yosemite birds is offered here for your enjoyment: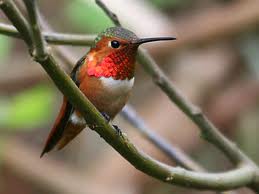 Allen's Hummingbird
ALLEN'S HUMMINGBIRD - Charles Andrew Allen (1841-unknown), secured this new hummingbird in Marin County, California. Henshaw would name this bird in his honor in 1877.
---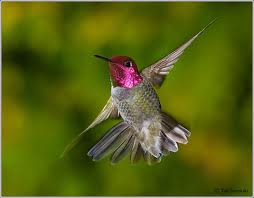 Anna's Hummingbird
ANNA'S HUMMINGBIRD - Anna Duchess of Rivoli was the wife of foreign bird collector Prince Victor Massena. This hummingbird, the first described from California, was named in her honor by Lesson in 1829.
---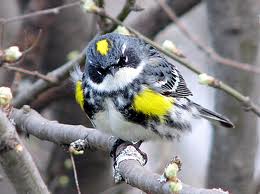 Audubon's Warbler
AUDUBON'S WARBLER - John James Audubon (1785-1851), the famous bird painter and naturalist, was memorialized by Townsend in 1873 with Dendroica Audubon. Audubon never visited California, but he described the Western Gull and several other birds collected in the State by others.
---
Barrow's Goldeneye
BARROW'S GOLDENEYE - Sir John Barrow (1764-1848), was a Secretary of the Admirality, traveler, writer, and founder of the Royal Geographical Society. The Barrow Straits, Cape Barrow and Point Barrow preserve his name, as well as this well known duck which was named by Swainson and Richardson in 1831.
---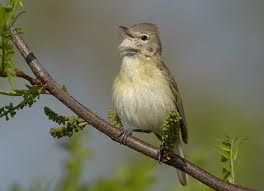 Bells' Vireo
BELL'S VIREO - John Graham Bell (1812-1899), was a well known taxidermist who accompanied Audubon on his Mississippi River journey in 1843. Audubon named this bird Vireo bellii in his honor in 1844.
---
Bewick's Wren
BEWICK'S WREN -  Thomas Bewick (1753-1825), was an English artist and hand engraver. He was a friend of Audubon who named this bird for him in 1827.
---
Bullock's Oriole
BULLOCK'S ORIOLE -  William Bullock (1775-unknown), was a world traveler and miner who collected a number of new species near Mexico City. His name was preserved in the description of one of these new species by Swainson, 1827.
---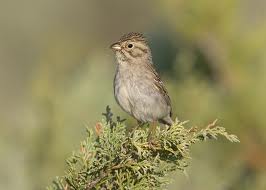 Brewer's Sparrow
Brewer's Blackbird
BREWER'S SPARROW AND BREWER'S BLACKBIRD - Dr. Thomas Mayo Brewer (1814-1880), was an editor of the Boston Atlas, author of North American Ornithology, and one of the few champions of the English Sparrow. The blackbird was named after him by Audubon, the sparrow by Cassin.
---
Cassin's Finch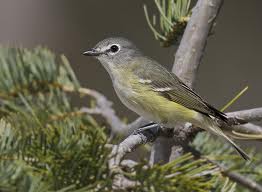 Cassin's Vireo
CASSIN'S FINCH AND CASSIN'S (SOLITARY) VIREO - John Cassin (1813-1869), was the author of Illustrations of the Birds of California, Texas, etc.; curator of birds at the Philadelphia Academy of Sciences, and reported on collections made by several government expeditions. He described 193 species of birds, of which 29 occur in California.
---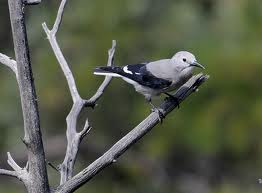 Clark's Nutcracker
CLARK'S NUTCRACKER - Capt. William Clark (1770-1838), this was one of the species collected by the expedition and was described by Wilson in 1811. It was given the common name of Clark's Crow which has been modified to its present name.
---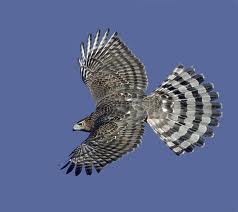 Cooper's Hawk
COOPER'S HAWK - William Cooper (1778-1864), was one of the founders of the New York Lyceum of Natural History. He was also the father of Dr. J. G. Cooper (1830-1902), author of the Ornithology of California, and namesake of the Cooper Ornithology Club.
---
Hammond's Flycatcher
HAMMOND'S FLYCATCHER - William Alexander Hammond (1828-1900), was a former Surgeon General of the United States and writer, and introduced John Xantus to Professor Baird. Xantus would later describe this bird from a specimen collected at Fort Tejon, California.
---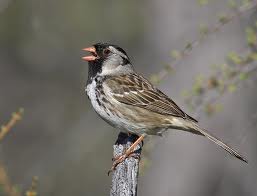 Harris' Sparrow
HARRIS' SPARROW - Edward Harris (1799-1863), was a traveler with Audubon on his Mississippi River trip of 1843. This bird was named in his honor by Audubon.
---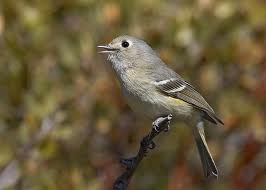 Hutton's Vireo
HUTTON'S VIREO - William Hutton collected birds in California in 1847 and 1848. During this time-frame he collected the bird which bears his name.
---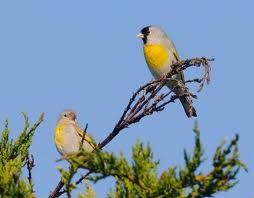 Lawrence's Goldfinch
LAWRENCE'S GOLDFINCH - George Newbold Lawrence (1806-1895), assisted Baird and Cassin in classifying birds collected on their Pacific Railroad Surveys. He published articles on a number of California birds, including descriptions of the Pacific Loon, Western Grebe, California Gull and the Black Brant.
---
Lewis' Woodpecker
LEWIS' WOODPECKER - Capt. Meriwether Lewis (1774-1809), was best known as one of the leaders of the Lewis and Clark Expedition. Wilson bestowed this name in his memory.
---
Lincoln's Sparrow
LINCOLN'S SPARROW - Thomas Lincoln (1812-1883). At 21 he accompanied Audubon on a trip to Labrador and the only new bird discovered on the adventure was this one. It was named by Audubon in his honor in 1834.
---
MacGillivray's Warbler
MACGILLIVRAY'S WARBLER - William MacGillivray (1796-1852). MacGillivray was a Scottish ornithologist who was also an aid to Audubon. In recognition of his assistance, Audubon named this bird Sylvia macgillivaryi in 1839. It was later discovered that two months earlier J.K. Townsend had named it Sylvia tolmiei, so this name took priority.
---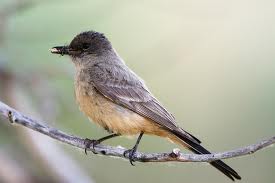 Say's Phoebe
SAY'S PHOEBE - Thomas Say (1787-1834), was the entomologist on Long's Rocky Mountain Expedition. His report described several new species of western plants and animals. This bird was described by Bonaparte in 1825.
---
STELLER'S JAY - George Wilhelm Stellar (1709-1746). Why the bird name is spelled Steller instead of Stellar is a mystery. Stellar was the naturalist on Bering's Expedition to Bering Sea, (from 1741 to 1746), and the first European in Alaska.
He died on his way home from this ill-fated trip. His name is not only associated with this bird, but also with a sea lion, sea otter, an Alaskan mountain and a bay.
---
Swainson's Hawk
Swainson's Vireo
Swainson's Thrush
SWAINSON'S HAWK AND SWAINSON'S (WARBLING) VIREO AND SWAINSON'S THRUSH - William Swainson (1789-1855), was an English ornithologist. His association with west coast birds is due to several ornithologists who named these species in his honor.
---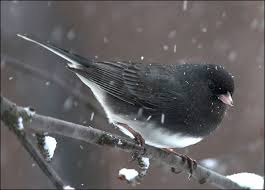 Thurber's Junco
THURBER'S (OREGON) JUNCO - Eugene Carleton Thurber (1865-1896), was chiefly known for his excellent list of the Birds of Morris County, New Jersey, and for his collections in southern California. He found this junco, named by Anthony, on Wilson Peak in the San Gabriel Mountains in 1890.
---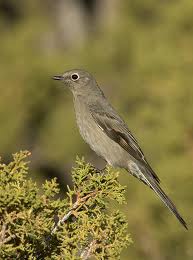 Townsend's Solitaire
Townsend's Warbler
TOWNSEND'S SOLITAIRE AND TOWNSEND'S WARBLER - John Kirk Townsend (1809-1851), is best known for his Narrative of a Journey Across the Rocky Mountains from 1839. On this trip to the northwest he collected and described several birds. Among those which bear his name are Townsend's Murrelet as well as Townsend's Bunting.
---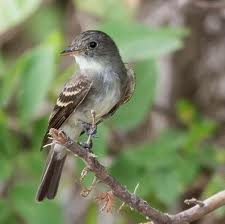 Traill's Flycatcher
TRAILL'S FLYCATCHER - Dr. Thomas Stewart Traill (1781-1862), was a  Scottish professor, and one of the founders of the Royal Institution of Liverpool. He often assisted Audubon during his visits to Liverpool. He also edited the 8th edition of the Encyclopedia Brittanica. To show his appreciation, Audubon named this newly discovered flycatcher in his honor.
---
Vaux's Swift
VAUX'S SWIFT - William Sonsom Vaux (1811-1882), was a friend of J.K. Townsend who named this newly discovered swift in his honor.
---
Williamson's Sapsucker
WILLIAMSON'S SAPSUCKER - Robert Stockton Williamson (1824-1882), Col. U.S.A., was in charge of the Pacific Railroad Survey party in northern California. Dr. Newberry, the surgeon of the expedition, found only males of a new woodpecker which he named Picus williamsonii in 1857. Cassin had found only females of a woodpecker he named Picus thyroideus in 1851. Finally Henshaw, in 1873, found Picus williamsonii and Picus thyroideus breeding together, proving that they were one and the same species.
---
Wilson's Phalarope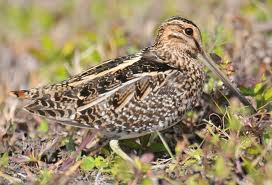 Wilson's Snipe
WILSON'S PHALAROPE AND WILSON'S SNIPE - Alexander Wilson (1766-1813), is sometimes called the father of American Ornithology. His name is commemorated in several species, including the Wilson's Phalarope and Wilson's Snipe.
---