Camping In Yosemites Wilderness And How To Get There On Foot And Horseback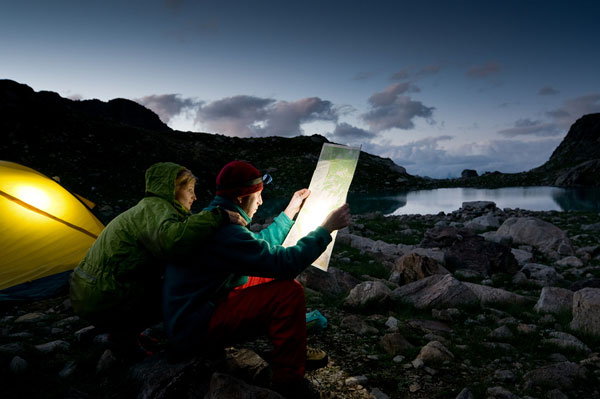 Camping in Yosemites wilderness ranks as the experience of many people's lifetimes. Spend all of your time on the floor of Yosemite Valley and you'll miss some of the most magnificent scenery to be found anywhere in the world.
Gem-like lakes, crystal streams and grotesque granite domes tell of their glacial ancestry. Late-blooming wildflower gardens hang on the sides of the mountain peaks. This is Yosemite's High Country!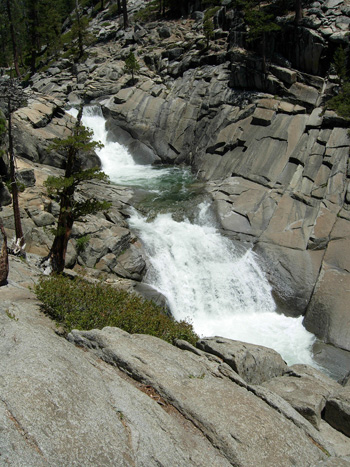 It may come as a surprise to learn that of the over 1,180 square miles that make up Yosemite National Park, more than 1,100 of them exist as wilderness in the vast High Sierra region west of the crest of the Sierra Nevada range.
It is difficult to put the breath-taking beauty of the Yosemite high country into words, with its stark jagged peaks, merrily tumbling streams and many expansive meadows filled with the delicate blossoms of wildflowers. Deep blue glacial lakes rest in the shadows of scarred cliffs formed by the same geological action. The contrasting green forests surround them both. The forest variety changes as the elevation increases from the cedar pines and firs found in the lower elevations to the wind twisted hemlocks and white bark pine of the "Hudsonian zone" at 10,000 feet.
Every-day concerns somehow melt away under the influence of the magnificent surroundings. Carefree days transition to serene nights filled with only the whisper of the wind in the tree tops.
Not that long ago camping in Yosemites wilderness was  very difficult, involving either an arduous backpacking trip or a less strenuous but costly saddle trip. Today with networks of well maintained trails, anyone can make their way through the wonderful primitive vastness easily and with very little expense. True…some trails are long and can be strenuous. But with planning and preparation, the less visited parts of the park can be enjoyed by anyone in good health and in reasonable condition.
---
Camping In Yosemite Valley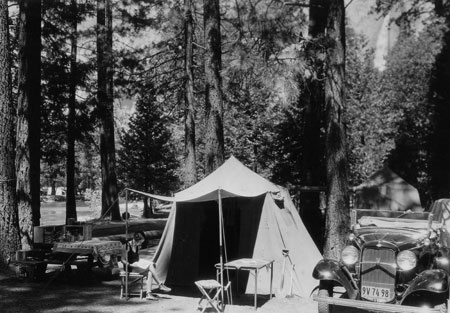 In early 1997 a flood swept Yosemite Valley, effectively erasing hundreds of campsites. Most were not replaced because of the frequent re-occurrence of flooding in these areas and the expense of the ongoing reconstruction after it did.
Despite this, Yosemite still has thirteen campgrounds containing 1,490 campsites. Seven of the campsites require reservations in advance. During the visitor season from April through September, advance reservations are your only hope for a camping spot.
Camping in Wawona the Hodgdon Meadow and several campgrounds in Yosemite Valley itself are available throughout the year.
---
The High Sierra Camps...Comfortable Camping In Yosemites Wilderness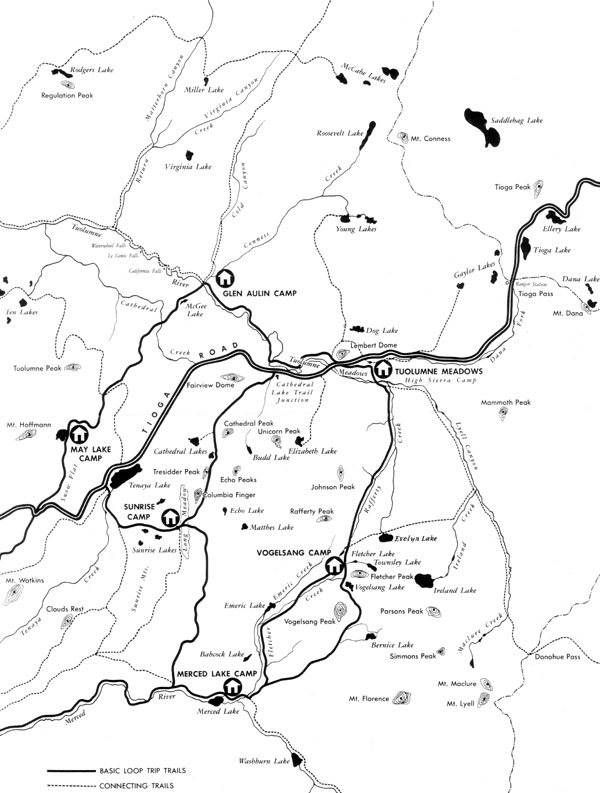 Six of the seven permanent High Sierra Camp's are arranged along a loop trail ranging in elevation from 7,200 to over 10,300 feet and are situated along the route at an average interval of about 9 miles. The seventh camp of Whitewolf, is not a part of this "loop" lay-out.
Each of the permanent camps has nearby camp areas especially for backpackers.

The six permanent camp locations were selected because of their outstanding beauty, numerous fishing opportunities and other natural points of interest. Each camp provides expected travelers with accommodations in tents complete with beds and mattresses, linens and lots of blankets- the nights get cold! 
Breakfast and dinner are served in a central dining tent, and though the menu is simple, the food is excellent with large servings. Box lunches are available. Campers staying at the nearby backpack camp areas are welcome to dine here too, provided reservations at the dining tent have been made. Each camp has hot showers which are a welcome luxury in the wilderness and all essential plumbing is enclosed.
The high country camps are a convenient distances from one another, which make hiking and riding trips comfortable for just about every age.
---
A Lottery For Reservations

Demand for reservations at the permanent High Sierra camps has become so intense for the few weeks from mid June to mid September when they are open, that requests are pulled and awarded during an annual lottery.
Lottery Link "Comfortable Camping In Yosemite Wilderness":
Be sure to check for cancellations at:
---
Riding The Loop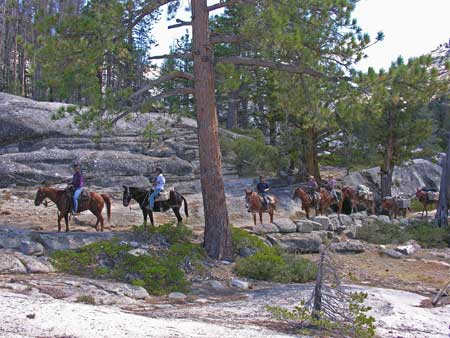 The 6 Day Saddle Trips.
Three times monthly during the summer season, "Six Day Saddle Trips" originate from and return again to Yosemite Valley. Experienced guides accompany each group to Glen Aulin Camp, May Lake Camp, Sunrise Camp, Merced Lake Camp and Vogelsang Camp.
Mules provide the transportation on these trips, being trail-wise and surefooted. They are often more comfortable than horses on long rides. Personal necessities are limited to 25 pounds per person. The weight is split with 10 pounds with you on your mule and 15 pounds carried on pack animals. Saddle trips are arranged on an all-expense paid basis including meals, tent accommodations, saddle animal and guide service.
The 6 Day Saddle Trip - 2013 Schedule
Dates of Departure: July 16, 23, 30, Aug 6, 13, 20, 27, Sept 3 (8 trips are planned conditions permitting)
Camps visited: Glen Aulin, May Lake, Sunrise, Merced Lake, and Vogelsang
Cost:Saddle Trip Prices include lodging, meals, mule and packer guide.
Link to more Saddle Trip information
The 4 Day Saddle Trip
For those with too little time to take the six-day trip, a four-day group trip departs weekly from Tuolumne Meadows. Two routes are ridden with the overnight stops for the "North" route including a night at Glen Aulin, May Lake and Sunrise camp before returning to the Tuolumne Meadows on the fourth day. On the first day's 7.6 mile leg, a lunch stop is made along the Tuolumne River and camp is reached in time for a side trip to experience Waterwheel Falls. The second days 8.6 miles brings the riding party to May Lake. May Lake Camp is situated on the shore at the foot of Mount Hoffman, one of the most spectacular granite peaks in the park.
From May Lake, the trail descends sharply over the granite, rising through heavy timbers past lakes and meadows on its way to Sunrise Camp. At "Sunrise" are superb views of Sierran peaks for almost 180 degrees of the horizon.
The fourth day is spent on the 11 miles of beautiful "Sunrise Trail" returning back to Tuolumne Meadows in the mid-afternoon. The alternative "South" route includes instead overnight stops at Sunrise Camp, Merced Lake and Vogelsang Camps.
Read on for complete descriptions of every one of these camps.(Link)
The 4 Day Saddle Trip – 2013 Schedule

There are two options on the 4 day Saddle Trip:
North: camps visited are Glen Aulin, May Lake, and Sunrise.
Dates of Departure: July 18, 25 Aug 1, 8, 15, 22, 29 (7 trips are planned conditions permitting)
South: camps visited are Sunrise, Merced Lake, and Vogelsang
Dates of Departure: July 14, 21, 28 Aug 6, 13, 20, 27, Sept 1 (8 trips are planned conditions permitting)
Cost: Adult - $1018.25, Child (10 to 12 years old) - $856
Saddle Trip Prices include lodging, meals, mule and packer guide.
*Children must be at least 10 years old and have riding experience to participate in overnight saddle trips.
*Riders must be under 225 lbs. Weight limit for your belongings is: 25 lbs. (including 10lbs on the mule that you ride, and 15 lbs. on a separate pack mule).
---
Guided Backpack Trips

Guided Seven Day Hiking Trip.
For those who prefer an organized hike of the Yosemite loop trail, guided Seven Day Hiking Trips make the circle of camps each week during the short season while they are open. Experienced guides will "interpret" interesting features along the trailside. Hikers quickly become more familiar with the many flowers, trees, birds and unique geological features that surround them. The Seven Day hiking trip originates from the Tuolumne Meadows Lodge.
Hiking at elevations of 7,000 to 10,000 feet is much more demanding than are lower elevations. It is highly recommended that hikers spend a day at Tuolumne Meadows to become accustomed to the altitude in preparation for their climb into even higher elevations.
From Tuolumne, the hiking party spends one night at the following camps in this order: Glen Aulin Camp, May Lake Camp, Sunrise Camp. Two nights is then spent at Merced Lake Camp and one night at Vogelsang before returning to Tuolumne Meadows on the seventh day.
Useful Backpacking Links:
Unguided Backpacking-National Park Service  site:
" Plan Your Backpacking trip to Yosemite's High Country"

Trailheads-National Park Service site. "Your Camp":
IMPORTANT: The quota for each trailhead is the sum of the reservable and first-come, first-served quotas. (The quota refers to number of people, not number of permits.)
Free Wilderness Permits-National Park Service site. "Required for overnight stays in the wilderness":
Wilderness permits are only issued to a limited number people for each trailhead in order to provide the best opportunities to enjoy solitude.
---
Useful Things That You Should Know
Travel Light.
The purpose of the High Sierra Camps is to enable visitors to the high country to experience the mountains without having to carry much…a small rucksack is all that you will really need. Fill it with two light sweaters, (rather than one heavy one), a pair of tennis shoes for around camp, and your underclothing.
Other items might include necessary toilet articles, a camera, dark glasses and a first aid kit that contains Band-Aids, aspirin and iodine. Don't forget a flashlight, matches, inch wide medical tape (to prevent blisters), a knife, sunscreen lotion, mosquito repellent and some safety pins.
Tips For The Fisherman
Those who want to fish should note that because of the remarkable clarity of Yosemite streams and lakes, leaders as small as 4X and seven feet long is suggested. Fly fishermen should bring an assortment of flies in preparation for the various conditions they will encounter. The black gnat and gray and brown hackle flies in size 10 or 12 plus a few wet flies are good choices.
Spinners, size 1, 0, and 00 are useful as are salmon eggs and other artificial bait. When the water is high and fast during the early spring runoff heavier leaders will be necessary. The many lakes and large pools of the Tuolumne and Merced rivers offer endless possibilities for the spinning enthusiast and the use of a dry fly attached to a bubble is sometimes effective as are a variety of lures.
Suggested fishing spots along the High Sierra Loop Trail and each base camp are described in more detail here.
Always be sure to check park fishing regulations posted on the bulletin boards.
---
What To Wear On Your Hike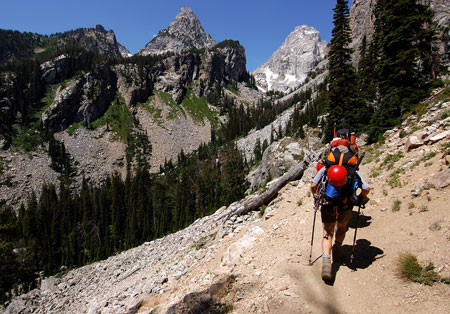 If you will not be riding horse-back, your hiking boots should be a serious consideration. For most trail conditions, a supple six-inch boot with composition or rubber lug soles, are best. Break in new boots before you start your trip. As important as it is not to hike in brand new boots, it is also a good idea not to hike in old boots. Hard granite rocks wear out thin soles really quickly.
Stop right away at the first sign that a blister is forming and apply adhesive tape. Tape applied in time is the best blister preventative, as are wearing smooth well fitting socks.
A shirt worn in layers beneath two light sweaters is the perfect way to start off in the coolest part of the day. It is hard to beat jeans for all purpose comfort and wear for the lower half of your body.
The best solution after an unexpected drenching from sudden High Sierra rain-storms is the natural low humidity itself. Weather conditions will dry things quickly once the rains have stopped. Thundershowers in the mountains are infrequent enough to be welcome when they do come. But ,if you don't like getting wet, a light poncho might be worth including in your gear.
Some Other Suggestions
Start your hike slowly and try to maintain a moderate pace. Stay on the path and don't cut across corners, doing this will ruin the trail over time and often loosens rocks.
To lessen the risk of forest fires, keep campfires small and only within designated camping spots. Be sure that every fire is completely out before moving on. If you smoke…light up only in cleared places and never on the trail.  
Departing groups should always leave information about where they are going and when they expect to return. Never hike alone.
Long distant trips on off-trail routes should never be attempted by inexperienced hikers unless they are accompanied by a competent guide.
When is the best time to go? That depends on you

Camping in Yosemite wilderness depends entirely upon the weather. The season between snow falls is really short so make the most of the time that you have. Spring follows winter's retreating snows immediately. If your goal is to see the mountain peaks and streams at their best, go in late June or early July when there may still be some winter ice left on high shelter lakes.
If enjoying expansive wildflower-covered meadows is your goal, a little later in July or early August is probably the best time. By the end of August, fall is in the air in the high country. Russet browns creep into the green meadows and trout feed ravenously to fatten for the long winter ahead. Early September usually brings with it the closing of the High Sierra camps.
---
To return to the Home Page from Camping In Yosemites Wilderness please click here.