Young Florence Hutchings Was Yosemite's Legendary Lady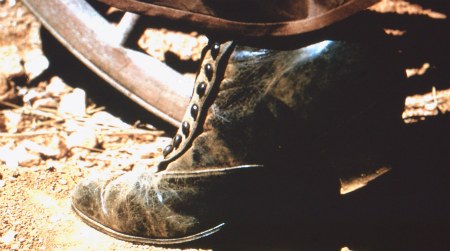 Her Legend Begins

Florence Hutchings was a living legend amongst the early settlers of Yosemite Valley, and her fame quickly spread amongst all of those who came in contact with her.

"Floy", as she was fondly called, had the distinction of being the first white child to be born in Yosemite, and John Muir became a close friend and admirer of hers as did early photographer Eadweard Muybridge.
She captured a spirit and zest for life that was not that uncommon amongst adventurous and pioneering men, but that was rarely seen amongst the proper young ladies of the time.

Though her wild unladylike behavior was considered to be inappropriate by some, the fact that she was genuine and free-spirited endeared her to those around her, (like John Muir).
 
Unfortunately, she lived fast and died young…but she left such an impression upon those who had grown to love her that the "high country" peak known as Mount Florence was named in her honor.

In 1964 Yosemite historian Shirley Sargent wrote the following tribute to Florence Hutchings that was aptly entitled "Yosemite Tomboy"...

---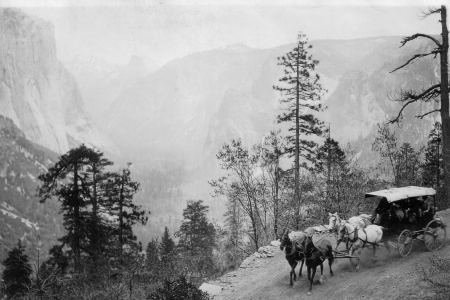 Florence Hutchings..."Wild Thing"
In 1880 and 1881, when stagecoaches came thundering down into Yosemite Valley, passengers already awed by the grand scenery, were treated to a dramatic welcome by a flamboyant horseman.

This unofficial greeter appeared astride a spirited horse with a scarlet bridle, attired in knee-high boots, trousers, a flowing cape and a wide-brimmed cowboy hat. As the horse reared up onto its hind feet, the rider's hat was removed and waved with a flourish, and the astonished passengers saw that their "welcomer" was a dark-eyed, dark-haired, young girl!

After such a picturesque confrontation, she would gallop off to meet the stage at her father's hotel and then advise and guide its occupants courteously, helpfully and knowingly. This Yosemite tomboy was Florence Hutchings, bold, vivacious daughter of James Mason Hutchings.

On August 23, 1864, Florence Hutchings became the first white child born in Yosemite Valley. Her birth followed the creation of the Yosemite Grant by less than two months, but her remarkable life lasted only 17 years of the Grant's tenure. Her brief years were distinguished by unconventional behavior, popularity with stage-drivers and guides and, role as heroine of a novel.

Although her birth took place in Hutchings' Upper Hotel, she grew up in the 1865-built log cabin on the sunny, north side of the Valley within sight and sound of Yosemite Falls.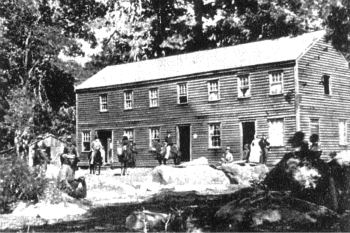 Photographer Eadweard Muybridge
From infancy, Florence Hutchings, nicknamed Floy, rebelled against being a girl and was allowed surprising freedom and independence by her indulgent parents.

Englishman James Hutchings was 44 at her birth, a former gold miner, writer, and promoter of Yosemite, in which he held a possessory land claim in conflict with the State Grant.

Hutchings fragile wife, Elvira Sproat, was 22 years his junior and avidly interested in botany and spiritual matters. Grandmother Florantha Sproat was the no-nonsense ruler of the household... cook, homemaker, doctor and weather prophet. Her teaching experience in an Ojibway Indian mission gave her an unusual interest in local tribes.

These "interesting" individuals let Floy wander the Valley unchecked. Instead of playing with dolls, she collected lizards and toads, mocked bird songs and showed her disapproval of things by growling like a bear.

Only two anecdotes survive of her that sound "childlike". One observation was that she would see-saw with friends for hours at a time. In 1867 at the age of three, photographer Eadweard Muybridge taught her to say to people, "I used to smoke a meerschaum pipe, but now I smoke a `torn tab'."
In the years to come, she actually did take up smoking, further scandalizing people.

---
Her Friend John Muir
From 1868 until 1871 John Muir, worked for Florence Hutchings father as a sawyer. There he and the "little black-eyed witch of a girl" delighted in each other's company. In letters he also referred to her as "squirrel," "the untamed one", and in 1870 wrote that she was "a smart and mischievous topsy that can scarce be overdrawn."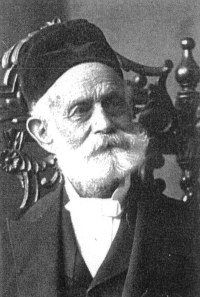 Muir disliked her father but had great kinship with Florence's mother Elvira and grandmother Florantha Sproat. He and his friend Harry Randall sometimes worried that Floy was undernourished because of her mothers peculiar fad diets, and would often bring her drinks of warm, fresh cows milk.

In 1867 her little sister Gertrude Hutchings, "a precious darling of a child" was born and became nicknamed Cosie. Her brother, William Mason, arrived in 1869.
Cosie often tagged along with her sister to the corrals where the stablemen would dare Floy to ride the most lively of the horses. Cosie remembered later that Floy could stick on the wildest ones. Anything a boy could do she could do better, longer and more dramatically.

She rode, hiked, swore, was fearless of peril, and scornful of disapproval. Her escapades aroused antagonism among the Valley women, but she was popular with its men.

---
"Zanita"
As wild as Florence Hutchings was, she could converse maturely with her father's many prominent guests and so impressed Theresa Yelverton, (disputed Viscountess of Avonmere), that she often dreamed of adopting Florence herself and training her to be an actress.

Mrs. Yelverton spent the summer of 1870 in the Valley, carefully observing Muir and Floy.

The two later emerged as her hero and heroine in the melodramatic novel, Zanita, which was published in 1871...Muir was pictured quite accurately as "Kenmuir," while Floy was the character "Zanita,"...a restless tragic spirit who ultimately drowns in Yosemite's Mirror Lake.

Floy's play acting was soon overshadowed by a real life drama. Her mother, after seven years of "incarceration" within the Yosemite Valley, deserted her family to run off with a man who shared her Spiritual interests.

---
The Hutchings Family Moves To San Francisco
Grandmother Sproat remained in residence and firmly in control, taking the children with her from the valley during the winters to San Francisco where they attended city schools.

At some undocumented date in the mid 1870's Florence's father married Augusta L. Sweetland, who immediately clashed with her tomboy stepdaughter.

As if these family upheavals were not difficult enough, in 1875 the State of California succeeded in evicting James Hutchings from his private claims in Yosemite. For the next five years, the Hutchings family was forced to reside away from the valley in Mrs. Sproat's Pine Street home in San Francisco.

---
Guardian Of Yosemite
Surprisingly on April 19, 1880, Hutchings was appointed "Guardian of the Yosemite Grant" and he returned triumphantly with his family to his Yosemite home.

Dressed once again as a boy, Floy made up for her lost "wild time" by plunging into an orgy of hiking and riding. She even  began camping alone, much to the concern of her stepmother and  the renewed shock of the residents of the valley.

However, the  valley tongue-waggers were comforted to see signs of a feminine maturity in Floy. These were evidenced by her growing kindness to tourists and little children and her deep friendship with 13-year-old Effie Crippen Barnard. Effie and Flo were inseparable. Effie was already known around the valley as the "lily," and Florence became known as the "rose".
 
While living in San Francisco, Floy had "got religion" regularly attending revival services of the famous Dwight L. Moody and Ira D. Sankey. So deeply did she immerse herself in her new-found religion that she later invited Dr. George Cole Stebbins, music director for the revivalists, and his sister to visit Yosemite.

A high spot of  the tour that she conducted for them was a visit to the new valley Chapel, the construction of which had been partially financed by donations from Sunday School children from around the country.

In affirming her faith, Floy assumed the janitorial care of the chapel...sweeping, dusting, decorating it with wild-flowers, laying out hymn books and ringing the bell to announce the often irregular times of the Sunday services.

---
Florence Hutchings Untimely Death
One day Floy was leading a group of women to Sentinel Rock when she impulsively climbed up to pick some ferns for one of them.

In John Muir's short account of the incident that followed, he recounted that… "There is a small stream there and in climbing she slipped and got her feet wet in the current at a critical time; took sick and died."

Separate sources agree to her becoming wet, with one always colorful, (but not always reliable), old-timer insisting that she caught cold after having jumped into a horse trough. No one really knows for certain what happened.
 
What ever the cause, she caught a violent chill and succumbed quickly, fulfilling the tragic prophecy in Zanita. The funeral was held in the Big Tree Room of Hutchings' former hotel with artist Charles D. Robinson reading the burial services and a memorial.

Her sorrowful stepmother wrote the following in the San Francisco Evening Post...

"So we have laid her who, only a week before... was climbing heights and scrambling through ravines where eagles might be looked for, under the same oaks with her friend Effie. . ."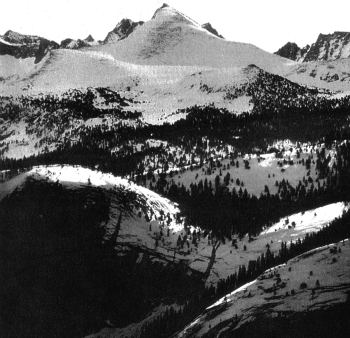 John Muir's Tribute To Florence Hutchings

John Muir was later credited with saying of his dear friend, "Let us give the girl, for her own and her father's sake, some graceful mountain height, and let it be called 'Mount Florence'."

Today, visitors to Glacier Point can see 12,507-foot Mount Florence on the skyline between Mounts Maclure and Lyell. Thus Floy's wild spirit and love of life are memorialized forever.

---
To return to the Home Page from the Florence Hutchings page click here.